Moon Predictions offer a variety of ways for customers to have a reading. We offer credit card readings, instant messaging through your PC and also text services. Not everyone has the time to sit down and have a reading, or sometimes you may only want an answer to one or two questions, this is where text a psychic would benefit you.
All you need to do is text MOON to 57777 – texts cost €2.50 per message received.
"Texts charged at €2.50 per message, 18+ only, for entertainment purposes only. To opt out of free promo msgs send STOP to 57777. Free Helpline: 1800 719347."
If you require a more detailed reading, then a credit card reading may be right for you. You can book a credit card reading by calling 01686 9338 and our receptionists will help you find a suitable reader to match your needs. Not all readers are the same – some use tarot along with their psychic abilities and other readers use only their guides to impart information to their clients. If it is your first time using Moon Predictions, take time to look at our website, www.moonpredictions.com, and familiarise yourself with our readers. There is a detailed description for each reader along with any testimonials they have received. This may help you decide which reader would be best suited to you.
Please feel free to leave a testimonial via our website if you particularly enjoyed your reading.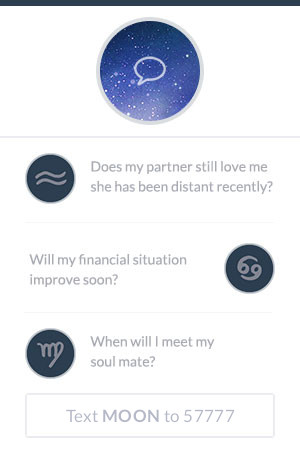 Now with Moon Predictions Ireland, you can text a psychic anywhere on our great psychic text service. Its easy! Please note if you don't include the word Rose and then a space before your question, your text could be directed to another company.
Text MOON (then a space) and a question to 57777.
"Texts charged at €2.50 per message, 18+ only, for entertainment purposes only. To opt out of free promo msgs send STOP to 57777. Free Helpline: 1800 719347."